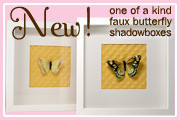 Haha. So, guess what? I changed my mind about the shadowbox butterflies, and they are now up for sale.
I still think they're super cute, but they're just not right for me. Hopefully someone (or many someones… there will be seven of these!) can give them a good home. I think they'd even make a great Mother's Day gift. I'm going to try to make the rest of them (5 more) this weekend if I can find a little time.
If you're interested, you can check them out at my shop (Pink Loves Brown).