I found these vintage wooden nesting tables at the Renegade Craft Fair, here in Chicago, a couple of months ago. I loved the shape of them, and that they nested together, but they looked a little plain in my library.
I decided to paint them in an ever-trendy ombré/gradient effect, figuring that when the trend moves on I can always repaint them again later. As I was preparing to paint, I look more closely at the tables and realized that someone had already painted them at some point, in a faux-bois effect. At least I didn't have to feel guilty about being the first one to take a paintbrush to them!
I gathered everything I needed to get started: a lead test, sandpaper (150 and 180 grit), a mask, painter's tape, paint and primer, a drop cloth, paint stirring sticks, and a good 2″ angled paintbrush. Below is a video showing the whole process.
I didn't know how old that painted surface was, so I used a simple lead test to be sure that the tables were safe to work with. Then I sanded the tops with the rougher sandpaper, wiped them down, and taped off the edges. It would have been ideal to disassemble the tables and just work on the tops, but they were held together with a combination of dowels, glue, and magic. Prying them apart would have been difficult — possibly disastrous — so tape it was. Next I primed them, painted, sanded again with fine sandpaper, and applied a final coat of paint.
The three colors are Benjamin Moore's Coral Gables and Petal Rose, and the third was a 50/50 combination of the two. I was careful to do a thorough job of sanding, and I made sure to abide by the recommended paint drying times (16 hours between coats because it was oil-based). I think that's going to make all the difference when it comes to durability.
I love the way the tables play off of the new red pot of the fiddle-leaf fig tree, and the whole area feels a whole lot happier. Bringing that pillow up from the living room certainly helped too! It feels right to add a little more color to the area, since the kids play there a lot. August has already taken to using the nesting tables as stairs for his little animal figures.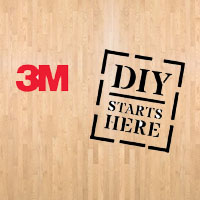 This post is a collaboration with 3M DIY.
To learn more about safety and preparation, visit 3MDIY.com.