This post is sponsored by Lowe's. While this was a paid opportunity from Lowe's, all content and opinions expressed here are my own.
---
The Christmas to New Year's transition: it can be done! I cleared the sideboard in our recently finished front entry to create two holiday looks, keeping the same base for both — silvery faux-birch allen + roth candles and white cotton ball ornaments that look like snowballs. Then I made a few easy changes.
I was eager to decorate the entry since we had just worked on the space, but these looks would work equally well for a fireplace mantel, console table, or even down the center of a dining room table.
---
Christmas
A green wreath and red flowers bring in traditional Christmas color, and the rest of the decorations are in a palette of white, silver, and gold. The neutral base helped ease the transition to the other look.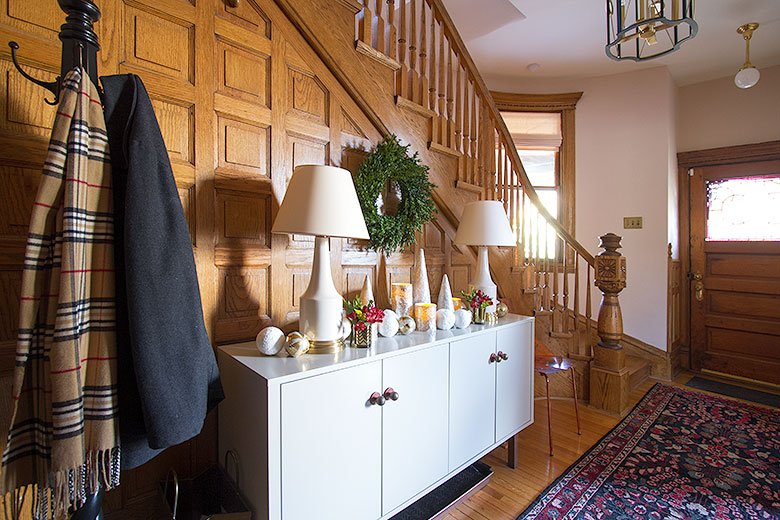 Small allen + roth gold votive holders are standing in as vases, and I mixed in a few Holiday Living gold plaid ornaments to add more shine. A trio of silver Christmas trees add height, and their texture plays well with the faux-birch candles.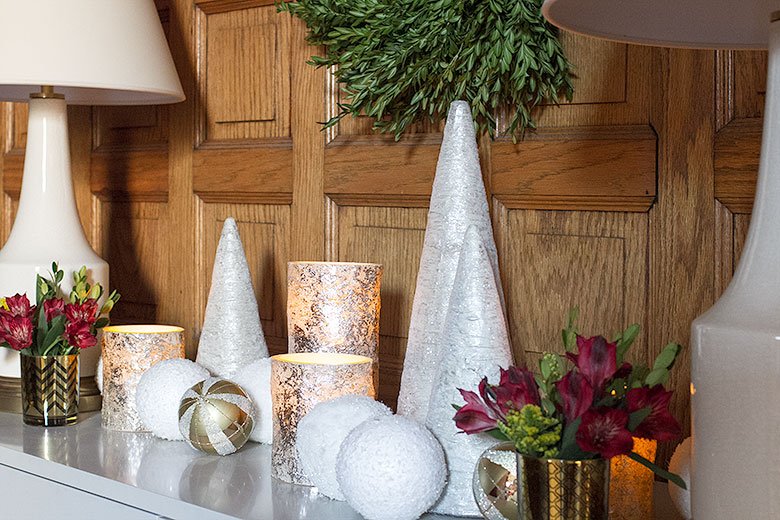 Those candles have such a nice glow. They have a realistic flicker too — my little guy likes to pretend to blow them out and then we have to time the off switch so he thinks he was successful.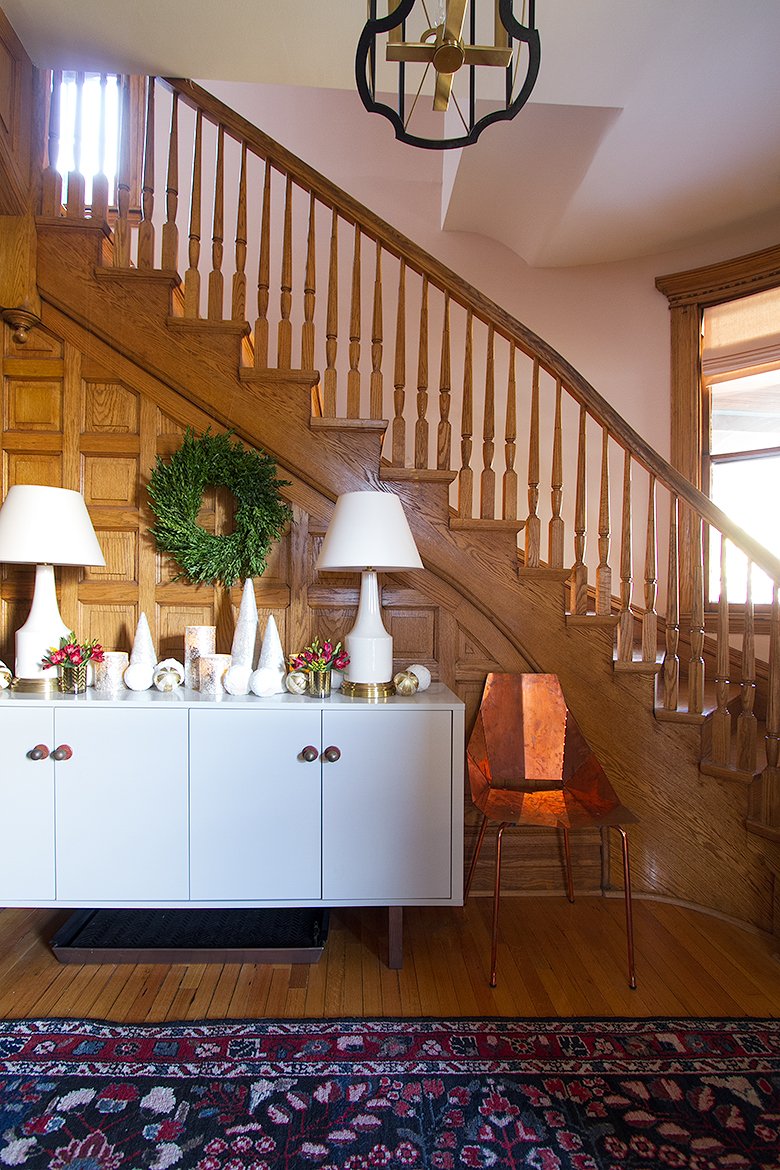 ---
New Year's Eve
Gone are the flowers and the wreath, along with the Christmas tree trio and the plaid ornaments. The most obvious addition is the backdrop of paper pinwheels.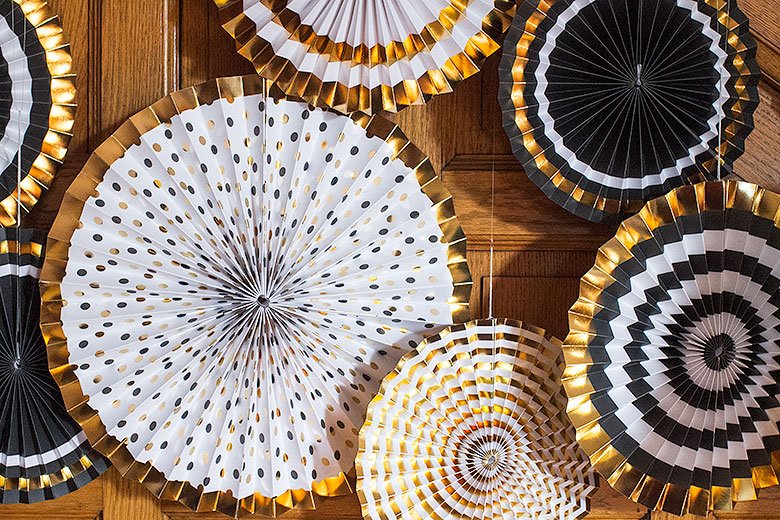 I used two packs of pinwheels for a more full look. I also added a few more of the snowball ornaments to replace the plaid ones. There are two types in the mix — some made from cotton, and these Holiday Living white ball ornaments. They both look like snow and I like the variance in size and texture.

The simple wreath would have still worked for the New Year's Eve style too, but allen + roth dots and stripes pinwheels are always so fun to break out for a party. They come with double-sided tape to stick them open, but we know the trick of using a paper clip instead so they'll be reusable, yes? (If you didn't, now you do.)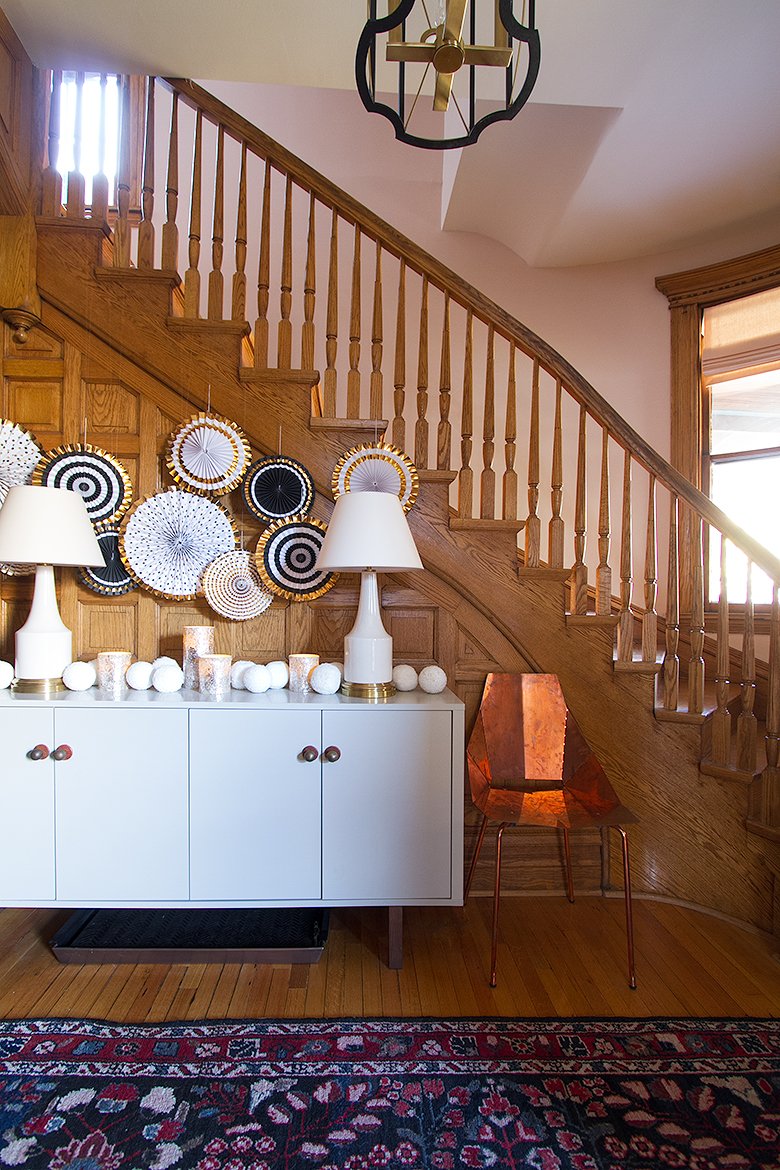 ---
You can grab everything for these Christmas and New Year's Eve looks from Lowe's.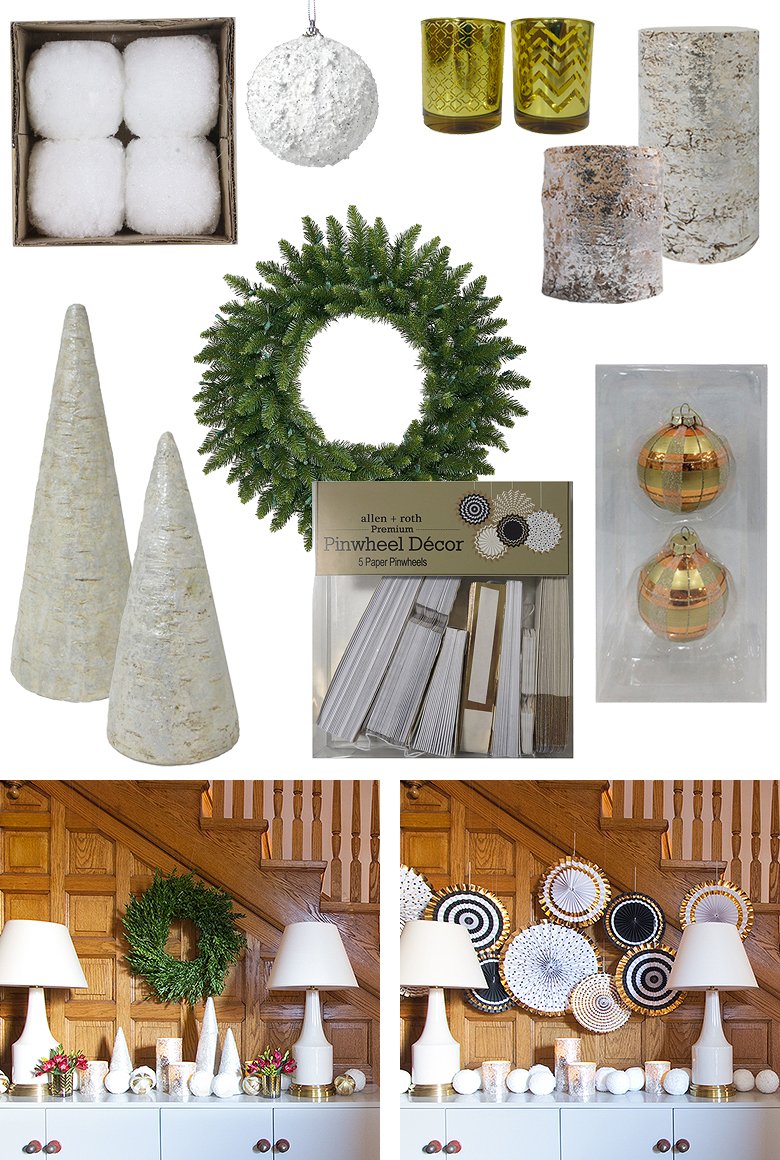 The base:
For Christmas, add:
For New Year's Eve, add:
---
Christmas Decorating, Simplified
Bonus look number three!
I would do something like the above for a party, or if this was a purely decorative spot like the fireplace mantel, but here's a quick shot of a pared back everyday version. We keep a tray on the sideboard to catch mail (because without it, paper will pile up and accumulate on any other available horizontal surface). The candles are going to be put to use elsewhere, the plaid ornaments will go on the Christmas tree, and the paper pinwheels are going into my party supply drawer.
This is how the front entry looks for us now, minus the stack of catalogs and other assorted mail that arrives daily. Simplified, but still festive.